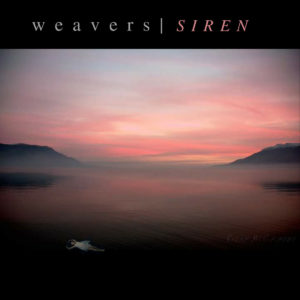 January 2017 saw the release of Siren, the wonderful debut EP from weavers, an on-going project of the singer Dónal Kearney on which I collaborated. The project aims to weave together the various influences that have shaped Dónal's music over the years, threading folk music around soulful harmonies and electronic beats. At the centre of it all is the soaring voice of Dónal and his lyrical ruminations about our connection to the sea.
I initially approached our collaboration with some trepidation. Although I had worked with Dónal previously, my music seemed to have unspooled. Having finally completed a lengthy opera, my mind was frayed and I worried that I had little to add to Dónal's rich and colourful tapestries. As it happened though, the collaboration not only produced a song that we were both proud of, but untied some of the knots from my creative block.
I first met Dónal in 2014, while I was doing an internship with a company based in Dublin. During that time, I worked in an office of about twenty-five staff, many of them also interns. Between long stretches of sitting slumped at a desk and staring at a screen, Dónal and I would discuss music and share pieces we had written. I savoured these moments during otherwise dull mornings and afternoons.
We started meeting on occasional weekends to arrange and record some of our own songs, but it didn't really come to anything for a long time. I figured that I was striving to create something that I lacked the technical ability to record. But perhaps it was more than that. Indeed later, I felt that we didn't feel comfortable enough to push the boundaries of each other's ideas. At any rate, the internship came to an end and I didn't see Dónal much for a while after that. He stayed in Dublin and I moved back to my hometown of Portstewart to work on my opera.
Writing the opera was terribly difficult. It was a constant struggle to compose more and more music, to push scenes forward, to create high and low points of drama, slowly pacing a story that would last over two hours. It was a lonely occupation too. My days were spent almost exclusively at the piano and the writing desk, punctuated by bracing walks along the fractured coastline of the town. It left me feeling isolated from other musicians and out of touch with the more tactile and social side of creating music. So when Dónal got in touch late last year to tell me he was working on a new collaborative project, although I was hesitant, I knew that I had to be involved.
We met at Dónal's childhood home in Warrenpoint, between the southern foot of the Mourne Mountains and Carlingford Lough. We hadn't seen one another for a while and were somewhat out of touch with each other's lives. It felt nice to sit and drink tea in an otherwise empty house with an old friend. We cooked dinner and listened to the music that we had lately encountered, easing our way into writing something new. It can be difficult to express in words the musical language we hear in our heads, and yet it is so essential if we are to understand one another's ideas and create something coherent. Sharing the music one loves can help express that language and give insight into the grammar of one's thoughts.
Later in the evening, we drank beer and retired to the piano, keen to sound our ideas. Dónal asked me to play an old piano piece of mine, Water's Edge, a work that I had written one summer evening in Portstewart in 2013. It's an important piece of music to me. Not because it's a particularly good piece of music – it's one of the simplest pieces I've ever written and doesn't really go anywhere – but because it marked the slow surfacing from a period of creative block in which I had been submerged since I finished college.
While I was a student at the Royal Academy of Music, I worked assiduously at creating new music and trying to push my creative boundaries. I thought about music all the time, composing in my head, at the piano, at the writing desk. It wasn't always easy to develop works, but new ideas seemed to come naturally. When I graduated, I suddenly seemed to falter. I didn't think in music anymore. I would stare blankly at the page or at the bank of black and white piano keys, not knowing where to begin. It was like walking into a room I didn't know and finding the door I had come through locked. The few odd pieces I did compose were almost entirely based on old ideas from my college days or simply resuscitated works that I had never quite finished. I began to believe that I had totally burned out and had nothing left to say.
It is a hard thing to suddenly lose a way of thinking, a whole language of expression. It might sound like an exaggeration, but one can be left feeling lost in a wilderness. Whether it's healthy or not I don't know, but the creative arts can form a central part of one's ego and personality, and to find that the mode of expression is gone can be akin to a loss of faith.
At any rate, I didn't write much for a couple of years. Then, in the summer of 2013, I started to compose again, beginning with Water's Edge. Not long after, I found myself writing in a musical language I hadn't explored before: a sort of folkish alternative music. Whatever this style was, it was becoming pretty well all that I was writing, and soon I had formed plans to write a full album of songs about the sea as the wilderness we can never inhabit.
That's all to say that when Dónal asked me to play Water's Edge, unbeknown to him, he was asking me to share a very personal piece of music. Perhaps this too broke down some barriers to collaboration, because over the next two hours we quickly took some chords from Water's Edge and started forming something new. We played around with melodic ideas well into the night. I switched from the piano to a seemingly ancient guitar that was half-hidden behind music stands and dusty violin cases. The body of the guitar was cracked along the back and creaked and groaned like an old door opening every time I played a chord. I picked out the harmonies while Dónal intoned a wordless melody in the gloomy room. After a while we retired to drink a little whisky – Laphroaig 10 Year: too peaty for Dónal, just right for me – and listen to more music.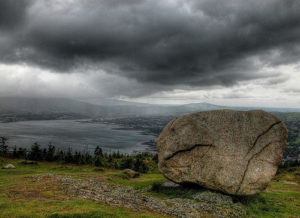 The next morning, we took a walk across the hills above Rostrevor, stopping by the giant Cloughmore stone. Perched about a thousand feet above the village, it does not belong on these hills. The tough granite mass of the boulder is thought to have originated on a Scottish island some hundred miles away. It is believed that it slowly slinked its way here along a retreating glacier during the last Ice Age. High on the hills, it seems as if the Cloughmore stone will forever loom over the village below. But just as it slowly travelled to this place, so it will slowly move away again. It is difficult to comprehend this, but one must look with the eyes of the shaman or mystic to perceive such glacial time. On another day the stone might have looked to me like a lump in the throat of the hills, but right then it seemed as though it might float away with the clouds into the steely sky above.
We returned to Dónal's house and played through what we had written. We had the structure, a guitar part, and the vocal melody. It felt good to have something before us that neither could have created without the other. I left later that day, back to Belfast. We agreed that I would record the guitar music and then email it to Dónal so he could write lyrics and record the vocals.
Time passed and we recorded our parts and added more. Eventually, after several weeks of sending files back and forth, we agreed that it was done. We titled the song Dark Ocean.